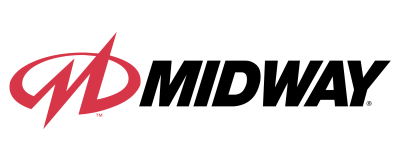 Midway Video Game User Manuals
The manuals from this brand are divided to the category below. You can easily find what you need in a few seconds.
Midway Video Game User Manuals

                                                    MIDWAY AMUSEMENT GAMES, LLC 
JUNE 2000
16-11200
27" and 39" C.A.R.T. Fury
 Dedicated 
Video Game Amendment
Please be informed...
The standard pricing table that originally appeared in the manual for the 27" and 
39" Dedicated C.A.R.T. Fury are incorrect. Please refer to the revised pricing table 
below to select desired coin settings.
NAME START CONTINUE CREDITS/COIN COIN 1 COIN 2 COIN 3 COIN4 BILL
ANTILLES 2 2 1/25¢, 4/1G .25¢ 1G
AUSTRALIA 1 2 2 1/3X20¢, 2/$1.00 .20¢ $1.00
AUSTRALIA 2 1 1 1/5X20¢,...
                                            

                                                    Midway Amusement Games, LLC      3401 North California Avenue, Chicago, Illinois 60618–5899   USA
FEBRUARY 2000
16-15909-101
     www.midway.com
Operation Manual for
4-PLAYER, 25"
VIDEO GAME
CONVERSION KIT
Dual Product with Player-Selectable Games
•1-Assembly   •2-Operation    •3-NFL Audits   •4-NBA Audits    •5-Wiring    •6-Troubleshooting 
                                            

                                                    Midway Amusement Games, LLC      3401 North California Avenue, Chicago, Illinois 60618–5899   USA
FEBRUARY 2000
16-15909-101
     www.midway.com
Operation Manual for
4-PLAYER, 25"
VIDEO GAME
CONVERSION KIT
Dual Product with Player-Selectable Games
•1-Assembly   •2-Operation    •3-NFL Audits   •4-NBA Audits    •5-Wiring    •6-Troubleshooting