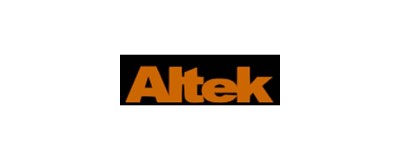 Altek Calibrator User Manuals
The manuals from this brand are divided to the category below. You can easily find what you need in a few seconds.
Altek Calibrator User Manuals

                                                    ALTEK INDUSTRIES CORP
ALTEK DATA SHEET
MILLIAMP CALIBRATORS
Models 46, 134
134
ALTEK's pocket sized milliamp calibrators offer  2-Wire transmitter simu-
lators as well as milliamp sources. Each model give you ease of use,
as well as accuracy and ruggedness both.
When you check out receivers, recorders or controllers in a 2-Wire 4 to
20mA loop, simply disconnect the 2-Wire transmitter and hook up a
Model 46 or 134 in 2-Wire mode. Flip a switch to get instant Full Scale
and Zero outputs. The calibrators...
                                            

                                                    ALTEK20 MILLIAMP SIGNAL ANALYZER
MODEL 234
• TRIPLE FUNCTION, 0 TO 20mA & -25 TO +125%
Source, Read & 2-Wire simulate
• PRECISE 3-1/2 DIGIT LCD
±0.1% of 4-20mA SPAN in Milliamps or Percent
• "QUIK-CHEK® 
" ZERO AND FULL SCALE
Switch 4.00, 20.00mA or Continuous Dial
• POCKET SIZE & LIGHTWEIGHT
12.5 oz. (0.35 kg) with 3 Month Batteries
• THREE YEAR WARRANTY
Tough enough for your ToolboxGENERAL DESCRIPTION
ALTEK's triple function MODEL 234 SIGNAL ANALYZER combines
a self contained 0-24mA SOURCE, a 2-WIRE...
                                            

                                                    ALTEK INDUSTRIES CORP
ALTEK DATA SHEET
The Model 334 may also be used when a controller is temporarily
removed for repair or replacement. Simply substitute the Model
334 for the controller and use it as a manual loading station.
SIMULATE 2-WIRE TRANSMITTERS by modulating external power
to pass 4 to 20mA. The Altek Model 334 uses any loop power from
2 to 100 Volts DC. True current design maintains set current
independent of voltage or load changes.
READ MILLIAMPS OR PERCENT of the 4 to 20mA signal. Maxi-...
                                            

                                                    Loop Calibrator
Model 334A
• All milliamp loop functionsSource milliamps
Simulate two-wire transmitters
Read milliamp outputs
Power & measure two-wire transmitters
Read DC Volts to check power supplies
• Compact and lightweightEasy to carry – less than a pound
Includes padded nylon carrying case with
shoulder strap and belt loop
• Accuracy to ±0.03%Within ±0.02 mA from 4 to 20 mA
• Long lasting alkaline batteriesThree "9V" batteries last many shifts
Optional AC adaptor for bench use
• "Quik-Chek®"...
                                            

                                                    Supplement   
© 2002 Altek Industries, Inc. All rights reserved. Printed in U.S.A.
Manual Title: 334A Supplement Issue:1
Part Number: 1887748 Issue Date: 6/02
Revision/Date: Rev A April 2002
This supplement contains information necessary to ensure the
accuracy of the above manual.
Safety Information
4Caution, risk of Danger; read the manual with particular attention to WARNINGS and
user operation.
-Conforms to European Low Voltage 73/23/EEC, EN61010-1 + Amendments 1,2 and
EMC Directive 89/336/EEC...
                                            

                                                    Milliamp Calibrator
Model 434-KP
¥ Calibrate with laboratory accuracy
±(0.015% of reading + 0.002 mA)
Accurate to 0.005 mA from 4 to 20 mA
¥ All 4 to 20 mA loop functionsSource and read milliamps
Simulate 2-wire transmitters
Power transmitters & displays transmitter output
Measure voltage from -100.0 to +100.0V DC
¥ Full range 1 microamp resolution0.000 to 24.000 mA and
-25.00 to 125.00% of 4 to 20 mA
¥ Powers loop or transmitterDrives to 1200 ohm loads Ð enough for any
transmitter or loop 
¥ Standard...
                                            

                                                    Transmitter Simulator
Model 46
• 2-wire simulatorCalibrate Receivers
• 5 point calibration4, 8 12, 16, 20mA
• Loop poweredNo Batteries Required
• Easy to useOne Hand OperationSimulate 2-wire transmitters to calibrate receivers,
recorders, controllers, indicators and computers. Loop
power eliminates the need for batteries. Loop current
is clamped at the key value you select. Accuracy is
±0.08% of 4 to 20 mA, even with changes in load and
supply voltage.
Switch settings of 0, 25, 50, 75 and 100% give you...
                                            

                                                    DATA SHEET 530
• 4000 COUNT (33/4digits) DIGITAL DISPLAY
• 50 SEGMENT ANALOG SCALE 
• BACKLIT DISPLAY
• TEST VOLTAGES FROM 250 to 1000 VDC
• AUTORANGING INSULATION RESISTANCE MEASUREMENT TO  4000M ΩON DIGITAL
DISPLAY AND 10G Ω(10,000M Ω) ON ANALOG
SCALE
• AC VOLTAGE CHECK TO 600V
• BATTERY POWERED AND AUTO OFF
• LOCKING TEST BUTTON FOR DIELECTRIC ABSORPTION TESTING
• RS-232 INTERFACE FOR RECORDING DATA
• AUTOMATIC DISCHARGE OF ITEM UNDER TEST
• DESIGNED TO IEC 61010-1 SAFETY STANDARDS
GENERAL...
                                            

                                                    DATA SHEET 536 
GENERAL DESCRIPTION
ALTEK
MODEL 536
CLAMP-ON METER
Do More with One Tool
The Altek Model 536 is a rugged, reliable, clamp meter with
greater versatilty than clamp meters that measure only AC
current. Measure AC Current, DC current, AC and DC volts,
frequency, ohms plus check continuity. Troubleshoot
industrial, commercial, hospital and residential electrical
and HVAC systems with the 536. This versatile clamp
meter offers true-rms sensing and MAX hold for measuring
inrush current or the...
                                            

                                                    DATA SHEET 570
• INFRARED: -20°C to 500°C (-4°F to 932°F)
• TYPE K T/C INPUT: -50°C to 1370°C (-58°F to 1999°F)
• BUILT-IN LASER SIGHTING
• ADJUSTABLE EMISSIVITY: 0.1 to 1.0
• BACKLIT DISPLAY WITH °C/°F READOUT
• AUDIO AND VISUAL ALARMS
• MAX HOLD
• AUTOMATIC SLEEP MODE
• POCKET-SIZED, EASY TO USE
GENERAL INFORMATION
ALTEK
INFRARED / TYPE K THERMOMETERMODEL 570
Two Thermometers in One
The Altek Model 570 is an infrared
thermometer and a digital contact
thermometer with a type K thermocouple input...
                                            

                                                         
DATA SHEET 587 
GENERAL DESCRIPTION
ALTEK
MODEL 587
DIGITAL MULTIMETER
The  Altek Model 587 is an industrial grade 41/2
digit (20,000 count) highly accurate and reliable
hand-held multimeter .  Its combination of durability
and features makes this multimeter a versatile
solution for all industrial and commercial
applications.  
The Model 587 uses low power CMOS
technology with a LSI circuit incorporating a double
integrating  A/D converter for accuracy and reliability .
The Model 587 measures DC...
                                            

                                                    RTD Simulator
Model 11
• Direct temperature outputInstant simulation of 11 temperature points
• 0.1°C accuracy25, 50, or 100 degree resolution
• Simple to useReplaces cumbersome decade box
• Worldwide Pt 100 Ohm RTD CurveDIN/IEC 751, Alpha=1.3850Altek Model 11 Resistance Temperature Detector
(RTD) Simulators provide 11 precise temperatures for
inputs to transmitters, recorders, controllers, alarms,
data acquisition and computer systems. The Model 11
allows 2, 3 or 4 wire connections. Factory calibration...
                                            

                                                    RTD Calibrator
Model 111
• World standard Platinum 100ΩRTDDIN/IEC 751 curve a=1.3850(0.00385)
• Simulate & read 2,3 wire RTDs & ohmsTemperatures from -200.0 to 850.0°C;
-328.0 to 1562.0 °F
Ohms from 0.00 to 410.00Ω
• 0.05% accuracyAccurate to 1°F or 0.6°C
• 1° or 0.1° resolutionField Selectable °F or °C
• Quik-Chek™  switchInstantly recall three outputs; HI, LO & SetAltek's Model 111 RTD Calibrator lets you simulate
and read RTDs over the entire industrial temperature
range. Use with transmitters, single...